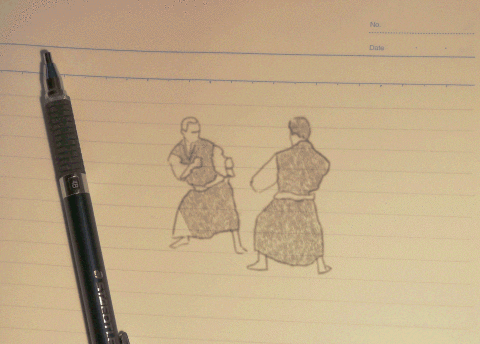 There was an audible crack as his sabre movement ripped my muscle.
One of my hands was still attached to his collar.
I had learnt a painful lesson:
"Don't lark around with an aspiring 4th Dan the week before the assessment."
No amount of enthusiasm or adrenaline-spurred determination, could make up for my lack of technique or for my lack of respect for his mastery.
"Sorry about that", he offered, "I shouldn't really have done that...to hurt you..."
Sometimes one learns the hard way.
No, one always learns the hard way.
Hours of practice, hours of not getting it right, hours of dreaming it's right.
So many dreams we have... to whose ends?
Ticket inspectors and their kin, the train enthusiasts, would have us working on their scales. Schools are their train-sets.
They organise their tracks, they play with the points, they privatise the carriages. They publicise the fancy rolling stock. They use the truth that talent is not enough to standardise the timetables, to drill the kids to their predestined tracks.
They celebrate the share-holders' profits.
"If you board the wrong train, it is no use running along the corridor in the other direction."
Dietrich Bonhoeffer
Play-school proponents, on the other hand, put the accent on the innocence, the creative imagination of the child, the idea that they only need to be left to their own devices to make a marvellous new Play-world.
"Kid's have you finished Playoutopia yet?"
We dream our worlds on Youtube, on Second life (not many of us now), on cable-tv. We identify our dolls, our icons. We consume our life-analysing apps...an iPad anyone?
"I lost 200 grams."
They celebrate the share-holders' profits.
When I was a kid, I played at being a grown-up.
We were commandos, I was an actor, a journalist, a musician, a social worker.
I was a "Jack of all Trades and a Master of none.".. A happy Joker.
Learning mastery may enable self-respect.
I lurked, I played, I came to realise that learning around is not enough.
Drilling without reflecting deeper as to the choice of our master is blind subservience.
You must work hard to see.
There is no alternative, we must learn to handle their arms to neutralise them, if we must.
Education is not training?
No, training is what one does best with education.
Education enables us to make considered choices about the form of our training and our relationships to masters.
I shall work now.