"If you are not at the table, you are on the menu."
A seating plan.
There's Christ in the centre, surrounded by his disciples.
Who is to his left? Who is to his right?
Whose table are they dining at?
Is that important?
I wonder who is in charge of the seating plan?
I suppose that once a marginal dissident Palestinian preacher is appropriated by the established church, and miscellanious defenders of faith, the seating plan becomes an important issue.
Who will get to share the bread?
Sometimes, people are easier to invite to dinner when they are dead.
Surveillance.
Before Google, (who does no evil), before Apple (who pays no tax), before Facebook (who brings the internet to the poor), before Twitter (and its civic service), before the NSA and GCHQ...
GOD.
Some of us have a long history of dealing with surveillance.
The (dis)advantage of divine surveillance is that we can do little more than pray for benevolence.
We are at God's mercy.
We must have faith.
All of us.
We may have some choice of intermediaries.
They may not have your best interests at heart.
Shouldn't we pretty much all be equal at communion?
"And as they were eating, Jesus took bread, and blessed
it
, and brake
it
, and gave
it
to the disciples, and said, Take, eat; this is my body."
I borrow a photo from a Catholic Herald article entitled:
"Why it makes no sense for non-catholics to receive communion. Here's why."
I wonder who is in charge of the seating plan?
Mammon.
Before Google, (who does no evil), before Apple (who pays no tax), before Facebook (who brings the internet to the poor), before Twitter (and its civic service), before the NSA and GCHQ...
We were (left) alone.
We love to be connected.
We are useless at resisting temptation.
Apples are sold seductively.
We are willing to believe snakes who speak.
They surely mean no evil.
Open your homes to them.
Surely, we are mistaken.
We are their bread, their bodies, their things.
We are on their menus, being eaten, bit by bit.
Who will defend us?
The (dis)advantage of divine surveillance is that we can do little more than pray for benevolence.
Defenders of the faith.
Let us pray.
Here is humble Abe, engraved in stone, magnified in scale and marble.
"Government of the people by the people, for the people shall not perish from the earth."
Abraham Lincoln.
Abraham Lincoln has values, faith and forboding.
He is eternal (dead).
I wonder who is in charge of the seating plan in the winter White House?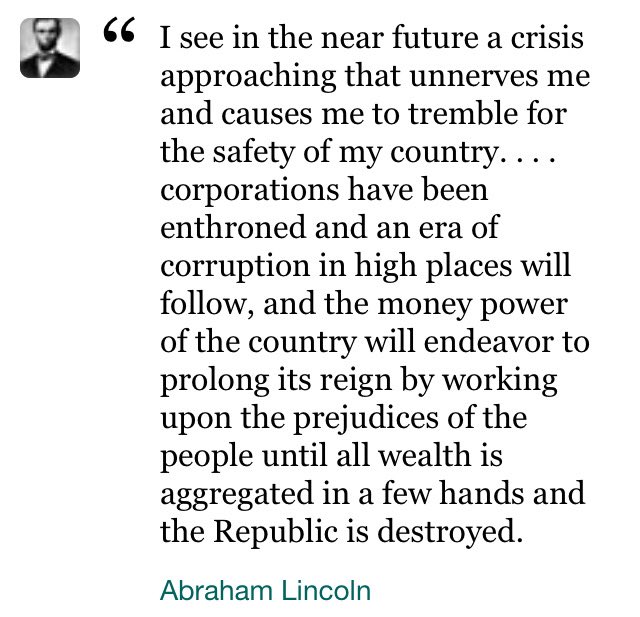 A seat at the table.
I was listening to the first #engagemooc hangout and suddenly, quite unexpectedly the word "table" jumped out at me.
"We need to give people access to the table."
7:41 PM
Simon Ensor​ Hmmm. Tables of power. What about upending that table?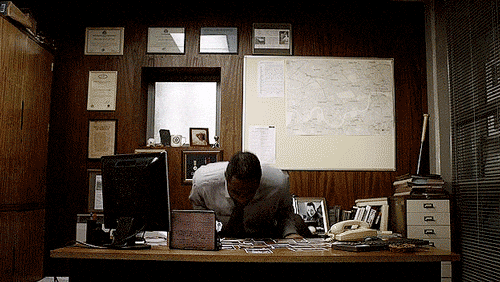 "And they come to Jerusalem: and Jesus went into the temple, and began to cast out them that sold and bought in the temple, and overthrew the tables of the moneychangers, and the seats of them that sold doves;"
I suppose, I am hypersensitive to this idea of tables.
I think about sitting at a vast table as a member of the university's board.
I was able to vote, to speak even.
I learnt that decisions were made, not at the table, but in the closed rooms by those who really held the power.
My place at the table was to acquiesce.
I was a representative of the diversity allowed by statute.
I remember discovering the university's gastronomic restaurant.
I was never invited to such a table usually.
I remember my feelings about a conference where those in power were all grouped at the top table.
There was an unnanounced seating plan for those in the know.
I was at a table, not THE TABLE.
I wonder who is in charge of the seating plan?
I had a voice, apparently not a voice that counted.
I wrote about this experience in two previous articles:
What are you?
R.E.S.P.E.C.T.
When we sit at their academic tables, are we still on their menu?
The conference closes with the round table.
The knowers are known.
I wasn't invited.
I left the delegates to their tables and went and ate with a homeless person in a Macdonalds.
I back reference a blog post of Kay Oddone entitled:
"But it's not just taking a seat. It's feeling confident and competent and comfortable enough to join in with the conversation that is happening at that table.
And knowing, when the talking stops, and the faces turn expectedly, how to share one's opinion in a way that
makes it able to be heard."
I note a strong emphasis on the importance of "higher education" in #engagemooc which is not supported by the examples of community learning in the videos brought to the table in topic one.
The Highlander centre.
The Antigonish movement
Black Community Education in Jim Crow South.
I wonder who is in charge of the seating plan?
Table research
I thought perhaps, I should research tables.
Perhaps, I had misunderstood what was meant by "access to tables."
I TOO.
I, too, sing America.
I am the darker brother.
They send me to eat in the kitchen
When company comes,
But I laugh,
And eat well,
And grow strong.
Tomorrow,
I'll be at the table
When company comes.
Nobody'll dare
Say to me,
"Eat in the kitchen,"
Then.
Besides,
They'll see how beautiful I am
And be ashamed—
I, too, am America.
The poem, I discover in an article entitled "What Langston Hughes powerful poem I, Too, tells us about America's past and present", is engraved in stone at the entrance of the National Museum of African American History on the National Mall.
Does "access to the table" mean acceptance as an American?
Is the table American citizenship?
What is it about being engraved in stone?
I, too, am European.
Pre Brexit, I find myself in limbo in France as a British citizen applying for French nationality. Whatever happened to European ideals? I find an article from 2013 entitled:
"The European Dream Is Based On An 'Equals Around The Table' Metaphor."
"In between the trade talks European leaders came to see that they had something in common besides the name of the table at which they sat."
On this foundation I propose that 'equals around a table' should be the governing analogy and the founding myth behind any new narrative or 'European Dream'. The slogan of the European Union is 'united in diversity' and in the words of Hannah Arendt in

The Human Condition

:
To live together in the world means essentially that the world of things is between those who have it in common, as a table is located between those who sit around it: the world like every in-between, relates and separates men at the same time.
A 'table'-metaphor further has a strong mythology in the European context. Jesus sat around a table, predicted his demise and forgave his traitors depicted on 'The Last Supper'. King Arthur and his 'Knights of the Round Table' is a common legend of valour, righteousness and equality. Martin Luther King Jr. might not be European, but his 'I have a dream' speech has resonated strongly with many Europeans over the last 50 years. He too talked about 'the table of brotherhood' as the central meeting place in his dream about equality and racial justice. Even the idea of a European continent in the very physical and geological sense rests on the idea of a tableau – or table.
Boardroom tables.
I find an exciting article entitled:
"Dutch photographer
Jacqueline Hassink
has been inside some of the most important and cloistered rooms in the world. But these aren't science labs or political offices—they're the opulent boardrooms of Europe's largest companies, which Hassink photographed as part of a project called
The Table of Power
."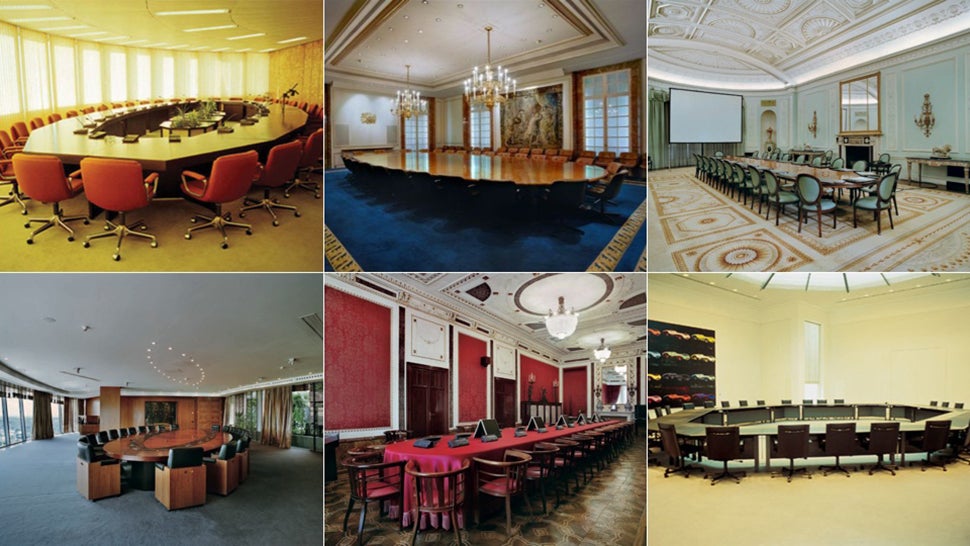 I find the language intriguing: "the inner sanctum".
I search a definition.
"The most sacred place in a temple or church.
A private or secret place to which few other people are admitted.
'he walked into the inner sanctum of the editor's office."
I suppose that the most sacred place is that closest to GOD.
Were they talking about "access to tables" such as these in #engagemooc?
I immediately remember a cartoon version of Orwell's Animal Farm.
The horse and the sheep are looking in through the window as the pigs dine.
"No question now, what had happened to the faces of the pigs. The creatures outside looked from pig to man, and from man to pig, and from pig to man again; but already it was impossible to say which was which."
George Orwell, Animal Farm
While billionaires toast their tax breaks, people go hungry.
I find a documentary entitled:
"As of 2012, about 50 million Americans were food insecure. This was approximately 1 in 6 of the overall population, with the proportion of children facing food insecurity even higher at about 1 in 4."
Clean energy...
While billionaire Elon Musk sends surplus Tesla sports cars to Mars, kids are digging cobalt in the Congo for its batteries with their bare hands.
"But the film is a saddening bore
'Cause I wrote it ten times or more
It's about to be writ again."
Are we wanting to replace one exploitative elite with another?
The Captain's table.
I find importance advice from the Reader's Digest, (Goodness a relic):
"How to get invited to the captain's table on your cruise holiday."
This is important as:
"The captain's table is the best place to eat, and to be seen at during your cruise. But there is a fair bit of mystery about how you can be invited to dine with the captain. As with many cruising enigmas, there is more than one way to get to dine at the top table."
Thank Goodness!
Google has saved me from social exclusion.
A seat at the table.
Google works in mysterious ways (but does no evil) I find a brilliant community art experiment "The Community Meal" in an article entitled "A seat at the table".
Surely we need to enable our own diverse tables to emerge rather than attempt to be the token invitee in their boredroom?
"The metaphor of the table evokes images of folks coming together to break bread, to discuss personal and political issues, and to cultivate an atmosphere of community. For artists Seitu Jones and Theaster Gates, the table is more than a metaphor; it's also a medium. In the Twin Cities, their tables are provoking dialogue about systemic reform, in local foodways and cultural institutions. Can these conversations actually effect change? Or is the change the conversation itself?"
"With the support of
Public Art Saint Paul
, Jones staged
Create: The Community Meal
, a half-mile-long luncheon in the middle of Victoria Street. A host of community partners helped to grow, cook, and choreograph the meal that took 400 volunteers to realize."
I wonder who is in charge of the seating plan?
This scheme contrasts with patriotic British street parties which have long been usurped by royalty and the establishment as demonstrations of civic engagement.
"Do we have to eat the jelly mum?"
"The Dinner Party
is an
installation artwork
by
feminist artist
Judy Chicago
. Widely regarded as the first epic feminist artwork, it functions as a symbolic history of women in Western civilization. There are 39 elaborate place settings arranged along a triangular table for 39 mythical and historical famous women.
Sacajawea
,
Sojourner Truth
,
Eleanor of Aquitaine
,
Empress Theodora of Byzantium
,
Virginia Woolf
,
Susan B. Anthony
, and
Georgia O'Keeffe
are among the guests."
Should you be accepting invites to their tables or consider designing your own?
I find inspiration in a community project entitled:
A seat at the table.
It is accompanied by a hashtag:
#seatatourtable
"A Seat at the Table

is a borrowed phrase from Langston Hughes' iconic poem,

I, Too, am America

. Words from this poem are carved on the walls of the museum's history galleries.
At

A Seat at the Table

audiences are empowered to take their rightful

seat at the table

over a family-style meal, following critical conversations for social justice, featuring guest speakers whose work and commentary seeks progress for all people of color. Audiences take the lead in sharing critical thinking, problem-solving, and strategies towards a more equitable society.
The program acts as a social justice

conversation

exploring issues of contemporary importance linked to systemic racism, social inequity, and the black community. This program amplifies an important pillar of the museum's mission to explore:
the American experience through the African American lens
what it means to be an American
and share how American values such as resilience, optimism, and agency are reflected in the African American community's past, present, and future"
Should you be accepting invites to their tables or consider designing your own?
To change policy, helpful to have policymakers at table. But can you dismantle oppression w oppressors at the table?

#CIConveing #OYIF

— Ken Thompson (@kensbrain) May 24, 2017